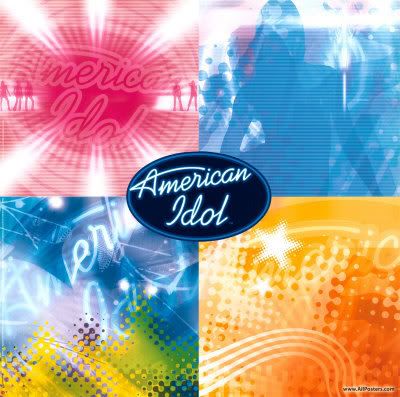 They're baaaaaack…….. the judges, the crazies, the talent, the hair, the Ryan…
Just to get things started I'm going to have to go through 'em all. Quickly, I promise…. but it must be done. I didn't have time this week to take my own snaps, so these are from the American Idol website. I'll crush recap the girls in a separate blog.
Before we begin, let's revisit the judges.
1. Randy. Uh… same. Same. Same. Same.
2. Paula. Well, we know she is staging an attempt at a comeback. She had the reality show, she sang pitifully at the Superbowl, and they aired her video on A.I. this week and while it wasn't terrible, it certainly had a raging overabundance of blowing fans going on. She looked kind of woeful to me this week. Like a puppy in the rain. And also, without being indelicate – like she could use a brow job. I'm not sayin'. I'm just sayin'.
3. Simon. Holy flaming white Chicklet teeth! Holy strange part down the middle of the spiky hair like some gardener got wonky with the weedwacker. And why — someone please just tell me — MUST he wear t-shirts that appear as though he just sort of found them in a laundrymat somewhere in 1982? I mean, they are all stretched out and distorted and droopy… the man is a millionaire and he looks like Jed Clampett.
Shall we start with the boys?
Chikezie – "I love you more today than yesterday"
Pro: Cute smile. Has the whole didn't-make-it-last-season thing going for him.
Con: Not a great singer. Argumentative and defensive about clothes. Has unfortunate Wayne Brady-vibe that makes my head hurt ALREADY…
Colton Berry "Suspicious Minds"
Pros: Nice tone to his voice.
Cons: Admits that he looks not just a little like Ellen Degeneres. Very theatrical.
Daniel Noriega " Jailhouse Rock"
Pros: Helllllo? Confidence! And plenty of it! The kid can sing.
Cons: May not get the pre-teen girls vote as he isn't leaving even a possibility of not being gay out there. One of my coworkers said to me,"I'm not completely sure he knows that he's a boy…." Yes, there is swish-factor.
I like this kid. I don't care what you say! I like him. And I want Christian to win on Project Runway too and they could be brothers! They are BOTH FIERCE!
David Archuleta – "Shop Around"
Pros: Young. Cute. Everyone on earth seems to think he's the second coming of Christ.
Cons: Ok, here it is. Every season there is one person that I sort of irrationally really love and someone that I equally irrationally sort of hate and this year David Archuleta is the person that MAKES ME WANT TO CLAW MY FACE OFF WHEN HE SINGS. I can't explain it but I can NOT STAND this kid. I even tried to not look at the TV while he sang thinking maybe it was a visual reaction, but no…. I literally felt like I was about to fly out of my skin the entire time he was on stage. Are you picking up what I am laying down? So, I'm thinking GREAT – now I get to be the one person on the planet that doesn't like David Archuleta while everyone else froths themselves. Great.
David Cook "Happy Together"
Pros: I like his kind of scratchy voice. He has the whole "FallOut Boy" vibe that will probably reel in the girlies. Does seem comfortable "making songs his own".
Cons: Seriously with the bandana in your pocket? Come on. And the pink stripe in your hair? Ok, Avril, have your pink stripe. FOR NOW.
David Hernandez "Midnight Hour"
Pros: Looks like he might have been on that show, "Prison Break". Am I right? Am I right? Clean cut. Decent voice. Modest. 1st to go and that's always nerve-wracking.
Cons: I would be hard-pressed to find a shirt that I hate more on this planet. I'm not sure how one comes to the decision to raid Bon Jovi's old wardrobe from "Blaze of Glory" and then run over it a few hundred times with a Nova with a bad oil tank…. and then, you know, wear it on national TV in a performance that will determine… I don't know… YOUR ENTIRE CAREER. Also, I am semi-annoyed by his voice. I haven't sorted it out yet, though.
Garrett Haley – "Breaking up is hard to do"
Pro: Sounds like girl if not looking at TV. Looks like girl if you ARE looking at TV. Lords of Dogtown, anyone? Oh! Um, Robert Plant from early Led Zep, anyone? Hmm. These aren't really "pro" things, per se. Nice elbows?
Con: Ok, I have it — Bill S. Preston, Esquire!
<– Separated at birth. Admit it.
Jason Castro "Daydream"
Pro: Loved his voice. Was not at all distracted by his only slightly extremely beautiful blue eyes.
Cons: Rage Against the Machine meets Queen Amidala with one heck of an adam's apple.
Jason Yeager "Moonriver"
Pros: Not named "David".
Cons: Unggggggnh. I'm just so OVER the "Crooner" thing. Plus, he kind of gives off an Eagle scout vibe to me. And I'm just not comfortable around people that pure and helpful.
Luke Menard "Everybody's talkin' at me"
Pros: As if an alien spaceship sent down a laser beam that genetically combined Orlando Bloom and Luke Perry. Is his real name even "Luke"? Or is it something like Ian or Brad and so many people said, "Dude, you look like Luke Perry" that he totally changed his name to "Luke"? Or do all people named "Luke" just sort of look like this? Should I, then, change my name to Scarlett?
Cons: Off key, man. REALLY off key. And I loves me some hoody… but is this REALLY the arena? This is what you need to do: find yourself a nice medical drama on tv and become to new McStubble.
Robbie Carrico "One is the loneliest number"
Pros: I'm still smarting over Bo Bice so I'm partial to giving rockabilly dudes some latitude.
Cons: Ok… I can handle the beard and the chain and the whole monochrome I-just-came-from-shop class look (and the fringy leather cuff bracelets, yes, even that) – but man, you better figure out the whole bandana thing PRONTO because I look at you and I can't hear you sing, man. All I can think about is a raspberry tootsie roll pop.
Michael Johns "Light my fire"
Pros: *Swoon*…. listen, ok… I will not say that he's the kind of drop dead gorgeous guy with HELLO the most zexy Aussie accent that also just happens to have a KILLER voice and did I mention the whole smoldering throw you up against a wall… *ahem* So, I clapped like Paula and beat my chest like Celine and grinned like a fool during his entire performance and Kory just laughed from the couch about what a complete tool I am. "I totally forgot that you get this way.", he said, shaking his head.
Cons: Possible teensy tiniest vague whiff of Constantine. Must be monitored closely. Very. Very. Closely.
Booted: Garrett & Colton
Who I thought would be booted: Luke & Chikezie
Girls… Girls…. Girls are next.