You know what is a bit of a bummer?  Wanting to be blown away then really, really NOT being blown away.
9 performances. 9 times I kind of bounced in my seat and did little clappy things with my hands in anticipation of blownawayedness. 9 times I went, "Uh…..ok.  Well? Ok."  Each little disappointment was minute…but even a little let-down, if it happens 9 times IN A ROW becomes a bit much.
Each one, in order…. here goes….
 Judges choices
David A – "And So It Goes"
While his outfit was typical David… the endless Members Only-esque jackets and jeans and tennis shoes, I was actually pleasantly surprised by his performance.  I am a huge Billy Joel fan (when will he be a mentor??) and own most of his greatest hits and albums, so I was surprised to hear a song that I'm unfamiliar with… but honestly, it was my favorite performance of Little David's so far.
I'm intrigued by the sideways spiky bangs.   What is that?
I'm not sayin', I'm just sayin'.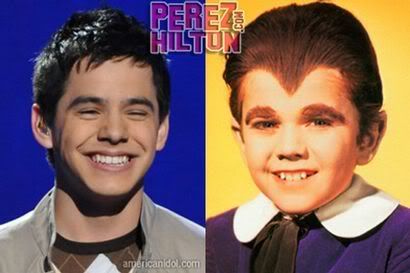 Syesha – "If I Aint Got You"
Oh, the controversy.  She's sung this song before.  Performed it on another TV show, in fact.  Rumor mill is so abuzz that she achieves CONSPIRACY THEORY levels of attention.
She's a plant…
They pushed her though because if all else fails, they already planned to offer her a contract before Idol 7 started…
They've encouraged her into the best song choices…
Even though she is consistently in the bottom 3, she always makes it through even though there is no visible fan support for her – no signs in the audience, no fan boards on the Internet, etc.
Because, you know, people can't get better. Or make better choices.  Geez.
I didn't love it, but it was pretty good. It wasn't BAD.  So, hmm.
 David Cook – "The First Time Ever I Saw Your Face"
I liked that it was almost acapella at the beginning… and I, of course, loved the raging rocker at the end because DUDE – IT IS HARD TO RAGE TO ROBERTA FLACK.  But, it was a bit formulaic to me.  Sort of the now patented David Cook "spin" is to take these songs and start slow and easy and sexy and low and then build, BUILD, BUILD to the full-blown rocker yell at the end… and the thing is, you can only ride a really great rollercoaster so many times until that amazing loop-dee-loop at the end no longer makes you scream (and clutch your chest?)…
The Songs they chose themselves….
David Archy – "With You"
David (singing):  I need you, Boo.
I fall off my chair, smash my face on a jar of cashews and The Baby's Learn and Groove toy.
David (singing):  I gotta see you, Boo.
The Baby sprouts wings and begins to flap around the living room while yelling "BYE BYE! BYE BYE! UH-OH! BYE-BYE! UH-OH!"
David (singing): And the hearts all over the world tonight…  *doing boppity jiggity dancey moves*
The Teen comes upstairs and announces that from now on, he'd like to only eat fresh fish for dinner and has given up all video games to concentrate more completely on his studies and personal spirituality and also, could someone please drive him to the library and then he'd like to clean the garage… if no one minds, of course.
David  (singing):  Ooooh, I need you, Boo….
Kory jumps up and does a flying karate kick into the kitchen, begins yelling at everyone in French with excessive "Mon deu!"s and then demands, "WOMAN! GET IN HERE AND CLEAN THIS KITCHEN AND THEN MAKE ME A TURKEY POT PIE!"
I'm telling, you…  we were so disturbed that it actually seemed as though we'd slipped into a different dimension and the laws of nature changed.
Also, it was fully obvious that you raided Blake Lewis' old closet.  Dork.
Syesha "Fever"
I had high hopes.  Until I heard her actually explain that she was going to use a chair as a prop because, um, helloooo, you don't EXPLAIN your prop or it looks really, really, really propish and it's not like the missing ingredient in the Syesha Pop Star Stew was "Make yourself more obvious".  Of course she sang it well.. but could she have really played up and emphasized the parts that would have showcased her more fully?  Uh-huh.  Especially the "what a lovely way to burn" parts could have just sizzled us out of our seats…but…….. eh.
David Cook –  "Dare you to move"
Well, he certainly embraced the whole idea of cheesy lyrics early on.  I don't mind Switchfoot and I've heard this song many times and like it just fine… and I'm always glad to see David with the guitar strapped on because he's always more comfortable when it's there.. his guitar woobie.
But, dammit, I wanted Collective Soul….  sigh……
Random, scary Justin Guarini:
The songs the Producers chose:
David Archubarfa – "Longer"
I always like these fading from long to close up shots… (all pictures taken by the lovely Kory, of course)
As previously mentioned, I love Dan Fogelberg and that's not at all like someone liking Englebert Humperdink or  Meat Loaf or some other uncooly named 70's artist, because Dan Fogelberg is a genius and if you doubt that, just ask Kory who almost drove us into a ditch in 94W when I lost my ever-loving-mind when "Leader of the Band" came on the XM radio and I tried to simultaneously rip my shirt off and throw it out the window and wave a lighter and bellow at the top of my lungs, "I'M JUST A LIVING LEGACY TO THE LEADER OOOOOOOF THE BAAAAAAND".  Genius, I'm telling you.
Which is why this Sunday School, beauty pageant, goopy, Kathy Lee Griffin, saccharin bullshit version made me a little bit angry.  But angry in a deep sigh, shoulders slumped defeated kind of way.  Which pretty much explains my whole relationship with David Archubarfa.  Confused. Irritated. Nauseated. Defeated.
I think "Boo" sums it up.
Syesha – "Hit Me Up"
What. Was. That?
Me: Is this Beyonce?  It seems kind of Beyonce.
Kory: Yeah.  Wow.  It's…….
Me: Or maybe it's Destiny's Child? Or Beyonce?
Kory: Yeah. Geez. It's really..
Me: I wonder if this is Beyonce.  It's kind of…
Kory: Bad.
Me:  Yeah.
Turns out it's by someone named, "Gia" that I have never heard of, and it was featured in the movie "Happy Feet" and while it wasn't actually ABOUT penguins, it might as well have been…
*makes scrunchy 'shit, dude… this aint lookin' good' face*
You had a good run, kid.  Good for you.
Random extremely happy, smiling guy that totally made me laugh and hopefully will have his own podcast or youtube.com following ASAP:
I'm like Archubarfa! I have his hair! And his furry eyebrows! And his Chiclet teeth!  But I'm MUCH, MUCH HAPPIER!
David Cook – "I Don't Want to Miss A Thing"
Ok, I'm not only an Aerosmith junkie, but I have seen "Armageddon", oh, about 350 MILLION TIMES and if you think for one minute I am not replaying Ben Affleck making the animal crackers walk across Liv Tyler's stomach and then part at the end when she yells "Daddy!" and is holding her hand against the TV screen while Bruce Willis is choked up rumbling to her in his growly voice, "I'm not coming home, Gracie" and then she and I dissolve into big slobbery tears.. EVERY TIME I HEAR THIS SONG, you are wildly mistaken.  One could say I am invested in this song.
So……….. then there are weird continuous flashes to Diane Warren in the audience, who really just looks like any middle-aged horsey-faced woman, prompting me to say to Kory about 30 times in a row, "WHO IS THAT WOMAN? WHO IS THAT WOMAN? WHO IS THAT WOMAN?!", to which my ever patient husband replies, " I don't know, honey. Maybe if we watch, they will tell us."
Except that I know better.  I know that frequently American Idol will flash to people in the audience … like, oh, say, for example, that gay assistant from "Entourage" and NEVER GIVE ANY EXPLANATION for it and you just better hope, sister, that you watch enough TV to know who almost anyone is (and thankfully, I almost do)…
So, the song was good for me because I love it and I attach all kinds of memories and emotions to it that probably have no business being there.. but it wasn't GOOD good, you know.  Just…….. good.   Mostly.
Tonight:  Syesha. Of course Syesha…
The finale will be ALL DAVIDS… ALL THE TIME.
I could have a heart attack and die from not surprised.
Also, guess what?
PAULA ABDUL IS A STORM-TROOPER DOMINATRIX!!!
Who knew?