70's week! Whoo! I say do a little dance… make a little love… get down tonight..
OOih! OOih!
Chikezie – "I Believe To My Soul"
Between my friends Jeff and Tracy, this week I have heard this man referred to as both:
AND
His unique thing was something about how people have always pronounced his name wrong. Hellooo? Your name is not Bob. Or Matt. Or something even kind of tricky like Batholomew. It's apparently supposed to be pronounced chik-EE-ay-zeh. Instead of chick-easy. Dude, I think you have a subliminal thing going on with the current pronunciation and should just LEAVE IT ALONE.
His performance was quite good, though I wasn't familiar with the song. He was relaxed and as I now apparently will hear EVERY FIVE MINUTES OF MY LIFE, it was in his "wheelhouse".
Anyone have Carlton going on…or just me?
Daniel – "Superstar"
Don't you remember you told me you loved me, baby?
You said you'll be coming back this way again, maybe…
Kory says to me, "It's just so weird hearing that voice come out of that guy."
It's not weird. IT'S FIERCE! SAY IT WITH ME! FIERCE!
Archubarfa – "Imagine"
Ok – so we performed a little experiment in my house during his performance. I didn't look at the TV at ALL — not even to see him walk out, nothing. I was trying to figure out if this intense visceral reaction was visual or audio or both. So, I turn and face the wall and I hear him talking about meeting and singing for Kelly Clarkson.. blippity.. blappity…
Then he starts singing the 3rd verse of one of my favorite songs… and it's…. not bad. It's… kind of good… *raises eyebrows* Kory is staring me down. "Sooo?", he says. "Soo!!??" "Well, it was pretty good." Kory sits back with a smug smile. I'm not sure why this pleased him. I can only assume that he was a closet Archuleta fan and hadn't presented himself to me as such, for the sake of happy marriage. Much in the same way he will not admit to me that it does actually annoy him that I hum in my sleep.
So, I back the show up and replay his performance and this time, I watch….
AND I CAN'T STAND IT!
He sounds nasal and pitchy and like he's sort of swallowing the best notes. Imagine all the… PEOPLE… — that note. That high note that John Lennon just allowed to roll off his lips and tongue like so much hot cocoa sounded like Archy was passing a kidney stone. UUNGGG! UNGGGGG!
So, experiment concluded. I believe it is safe to say that I have some sort of visual issue with this kid.
David Cook – "Alright Now"
I loved his performance – the guitar was just right. I'm irritated that the BANDANA is still in his back pocket.
Hernandez – "Papa Was a Rolling Stone"
There are SO MANY Davids. So, I'm going to last names from now on.
God, I feel like Randy. I mean, I don't have anything super life-changing to say. I didn't love it. I didn't hate it. I'm glad you aren't wearing another god-awful stained shirt but now it's your week to wear the weird hoody/suitcoat combo?? WHAT IS THAT? Also, I don't mean to point out the obvious, but I don't think America was exactly surprised that you were a gymnast growing up. Not a big mental stretch on that one, honey.
Jason Castro – "I Just Want To Be Your Everything"
He's like a pretty little dread-locked porcelain doll, idn't he? I just want to pet him and carry him around in my backpack.
So, I like this kid's voice and I'm really looking forward to the inevitable "Extreme Makeover" and frankly, you could sing the theme from "Bosom Buddies" to me as long as you are playing the guitar because dudes that play the guitar increase their hotness by like 4000%. I'm not sayin'. I'm just sayin'. The thing about Jason is… he has this tiny bit of an affectation where he slurs his words together like he's been hittin' the bottle.
"Ooooh Ahhh…. Ahh jushwanna bee your everything.." Since the judges were pissy about his guitar, I'm sure he'll sing without it next week and I suppose we'll call that Experiment #2 for Denise on the Likability Scale.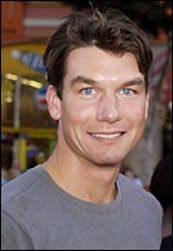 Yeager – " Long Train Runnin"
So, ugh, another Jason. Evidently this year the winner has a 67% chance of being named Jason or David… at least if it's a guy.
Horrible. I expect him to go tonight. I'm really not sure how he got this far?
You can't expect the fact that you look like Jerry O'Connell to get you far in life, buddy!
Luke – "Killer Queen"
Here's the thing, the only artist that I like singing in falsetto is Prince. And even that, I'm iffy on. I mean, I can handle 4 minutes of "Kiss" by one of my favorite artists (and I of course mean Pre-Jehovah's Witness, Pre-Rainbow Children, Pre-suck Prince) … but I can NOT handle any more of your crazy falsetto, Luke. I'd like to insert here some half baked Leno-esque joke about Chapter6 being just a step from bankruptcy, but I'm WAY too cool for that. Mostly.
Michael – "You Can Go Your Own Way"
1. Oh my, that was some rough singin'. I hated it EVEN WHILE LOOKING AT YOU. Terrible performance, I thought. Did you even practice? It was like you were screeching for the notes!
2. We don't use the word "Jock" to describe boys who play tennis in America, darling.
3. I still love you.
Robbie – "Hot Blooded"
America is not surprised that you like cars, Robbie. Geez, could the boys have anything LESS interesting to tell America? I found your performance to be bland… just like you. And the thing is, I know you loves you some rock-n-roll, but if it doesn't SUIT you, it doesn't suit you. My mother, for some unfathomable reason, loved Guns-n-Roses. I know. Freakish. My mother's usual fare was a little Carpenters, maybe some Barbara, a smidgen of Chicago… and Guns-n-Roses. My mom, in the car, wailing to "Take Me To Jungle" was wrong on so many levels. (Shivering now, remembering her doing the Kn-N-N-N-N- Knees! Knees! part…) Just because she enjoyed it, didn't mean that it didn't creep everyone else out, honey. That's all I'm saying. Give country a whirl. Also, you could do with about half the accouterments on your pantalones, amigo.
Ok — so my prediction for the two going home this week are….
Yeager and Luke
Oh baby, here come the 80's!